If you are like me, you love to find toys for your children that spark their imagination and creativity. I'm not going to lie, we have tons of plastic toys in our house. But I have started to steer away from ones with flashy lights and loud noises. When possible I try to look for toys that are more "green" like those made from wood or recycled materials. It is really not an easy task but that's where Calafant and CreativeToyShop.com come in.

CreativeToyShop.com is owned by Martina, mother of two and carries unique Calafant cardboard toys. A little about Calafant toys:

"All CALAFANT toys are designed by Boris Schimanski, a well-know cartoonist in Germany , who first built a cardboard castle to entertain his own children. The company has a great philosophy and attitude: All items are made from recycled cardboard (plus a layer of non-recycled white paper that makes decorating the items easier and more fun), and, of

course, all items are 100% bio-degradable. The design of each Calafant toy is beautiful and functional, and it encourages creativity

in children. It's an open-ended activity to build

and decorate your own toy. The toys are very sturdy and last through months and months of playtime."
Calafant cardboard toys come in 3 sizes: small, medium and large. So there is something in every price range. And don't forget the very cool looking Calacastle (shown on left)! This thing is life size and your kids can climb through it and have a blast decorating it! It reminds me of my younger days when my mom had bought me a cardboard playhouse with the same principal. Man I loved that thing!
I was lucky enough to receive the Spaceship small toy to review. I knew this would be a hit because my 4 year old loves Star Wars. He was very excited to open it up. Not only do you get the cardboard toy to decorate and assemble, it also comes with a set of markers.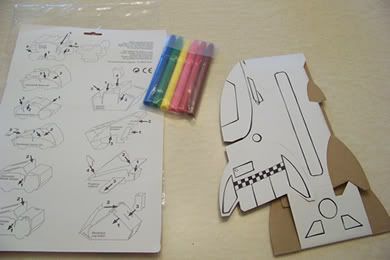 So William had a lot of fun coloring in his cool new spaceship. He also insisted that I help color. So the sections that are neatly colored in were done by me. :)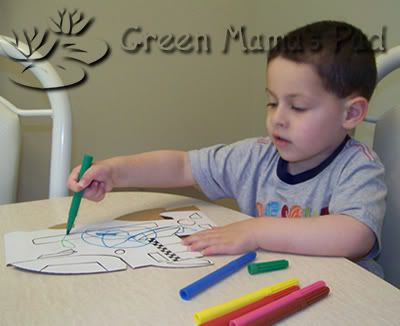 Once he decided he was done coloring, I assembled it for him. This literally took 30 seconds thanks to the easy to follow instructions. So within minutes my house was filled with countdowns and blastoffs and all kinds of spaceship noises. William loved it. And let me tell you, this thing has taken quite a beating already and you wouldn't even notice. It is very sturdy!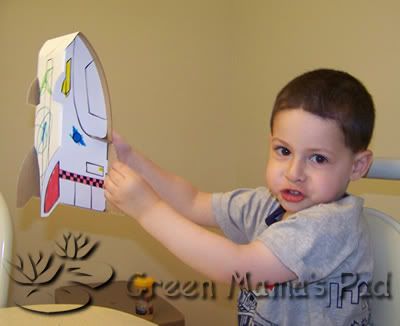 In addition to being eco-friendly these toys are also price-friendly. The small toys like this Spaceship are only $6.99. These would be great as party favors for your child's next birthday party! Think about how much money you spend on those typical junky favors. It is probably about the same. So why not go for something that is more fun and more useful?
Shop
You can buy Calafant toys at
CreativeToyShop.com
.