For Christmas, I bought myself a Kindle Touch with all of the $5 Amazon cards I had earned through Swagbucks throughout the year. (If you don't do Swagbucks, you really should. Go. Now.) This is my first ever eReader and I immediately fell in love with it. I also quickly realized that I needed to get some accessories to protect it. I definitely needed a case so I could safely transport it but I was also really nervous about the touch screen getting damaged, so it needed a screen protector as well. After asking around a bit I found that M-Edge Accessories were recommended my many people.


M-Edge offers a wide selection of accessories for not only eReaders like the Kindle and Nook, but for smartphones and tablets as well. They were extremely generous to me and sent a pack of screen protectors, a book light and a jacket for me to review for my Kindle Touch.
Screen Protectors
The M-Edge Screen Protector set is a 2 pack that comes with two screen protectors, two LCD screen protectors (for Nook), and screen cleaning cloth and is compatible with 2nd and 3rd Generation Kindle, nook, Kobo, and Sony Reader. It was fairly easy for me to place this on my Kindle Touch screen. The most difficult part is getting all of the lint and dust off of the screen first. I used the provided cloth which worked well, but apparently my house is dusty because little flecks kept falling back on. Once I got it as clean as I could, I lined up the edge of the film with the screen and slowly rolled it on, using the card included to flatten out any air bubbles. There is a very tiny gap between the edge of the film and the edge of the screen, but it is barely noticeable. Once I got the air bubbles out, the protector blended right in and you don't even notice it is there. I have had no issues with glare and its easy to wipe clean. The photo below shows my Kindle Touch without the protector and with. The glare you see in the after picture is due to my flash that I forgot to turn off. Price: $19.99.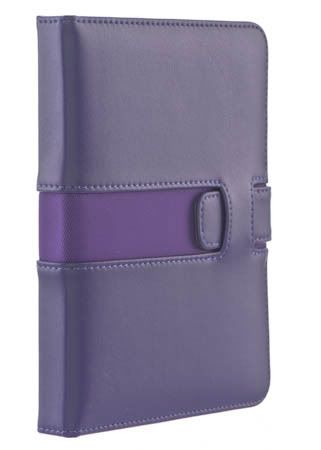 Executive Jacket
There are quite a few jackets and sleeves to choose from for your Kindle, even ones you can personalize. I chose to go with the M-Edge Executive Jacket because it seemed like it was the sturdiest and I wanted something that opened like a book. Plus, I love how it looks in purple. The outside is microfiber leather, available in purple, black or red, and the inside is a soft grey microsuede. The Kindle is held in place by a four point mounting system and believe me, the device does not budge. There is a pocket on the left which is great for tucking in some notes, a shopping list or even some business cards. This jacket is also compatible with the M-Edge e-Luminator Touch Booklight. One of my favorite features of the Executive Jacket is that I can access all ports without having to take my Kindle out of the jacket. So that means when I need to plugin to charge it, I don't need to worry about taking it out and a pair of tiny hands getting a hold of it. My other favorite feature is that the jacket cover folds back so you can hold it easier while reading. On my recent trip to San Francisco, I was so glad to have this jacket. I was able to tuck this inside my purse, which let's face it, is a bottomless pit of stuff, and the jacket kept it safe and sound. I spent the entire flight home reading the first book of
The Hunger Games
trilogy and the jacket was very comfortable to hold in my hand. Price: $39.99.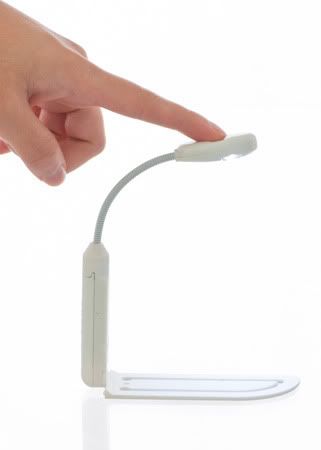 e-Luminator Touch Booklight
I never even thought about getting a booklight but once I started using this one, I realized what a necessity it is for me. Not only allows me to read in bed late at night without disturbing my husband, but it is also good for me in low lighting settings where my eyes strain to read. If you are going to invest in an eReader, I highly recommend getting some sort of light for it. M-Edge e-Luminator Touch Booklight uses a super bright LED light bulb that never needs replacing and requires just one AAA battery. There are three light intensity settings (low, medium and high) which are operated by a simple touch of your finger. On the medium setting, the battery can provide 20+ hours of light. The flexible steel neck allows for a full range of positions and the paper clip style support arm lets you hook the light onto books and magazines as well. The arm slides into a sleeve in compatible M-Edge jackets and sleeves. My only complaint is that it took some force and shimmying for me to get mine all the way in. But since I have no plans on taking it out, it doesn't present any problems. As I mentioned earlier, I started reading The Hunger Games on my flight home from San Francisco, and I used this light almost the entire time. Once they turn out the lights and all you have is your little overhead reading light, it wasn't enough for me. So I turned on M-Edge e-Luminator Touch Booklight. I spent probably a good 6 hours reading that day and night (I finished the book when I got home) and the light lasted through the entire day. Even now, almost two weeks later, I am still going on the original battery. Price: $19.99.
I could not be more pleased with all of my M-Edge
Kindle Touch accessories
. Every single one of them has met my expectations and then some. I honestly love them almost as much as my Kindle itself and I definitely would not want to be without them. Regardless of what eReader yo choose to go with, you will want to protect that investment so it stays with you for many years. M-Edge offers a variety of products that will help you do just that.
Please note that the opinions and views expressed in this review are my own and based on my personal experience with the product and/or company. You may encounter a different experience with this than I did. I received free product to review.