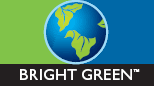 I am always in the market for new eco-friendly cleaners. Particularly all purpose cleaners. I really like to make my own, but my husband absolutely hates the smell of the vinegar. So I was happy to learn about the Bright Green line available at Safeway stores.


Bright Green

features cleaning and laundry products made with naturally derived and

biodegradable ingredients, paper products made from 100% recycled content, and high efficiency light bulbs. Each

Bright Green

product was designed with the customer

in mind – someone who values quality products at affordable prices.

Bright Green

products work effectively and can help Safeway customers contribute to a cleaner

and healthier planet.





We developed Bright Green in partnership with Scientific Certification Systems (SCS), a leading third-party provider of certification, auditing and testing services and standards in environmental protection and social responsibility. SCS reviewed each Bright Green product for naturally derived and biodegradable ingre

dients, post-consumer recycled content and energy efficiency.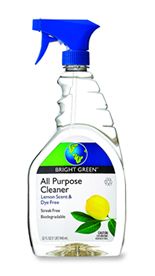 I was lucky enough to receive 2 Bright Green products to test out. First up was the All Purpose Cleaner. The first thing I liked was the lemon scent. I'm partial to citrus scents in my cleaners and this one was very nice. I've tried "natural" cleaners that have strong scents that don't smell very natural. That was not the case with this though. It was subtle and very pleasant. To really put its cleaning capabilities to the test, I used it the weekend of my twins' birthday party. I'm not going to lie, my house was pretty trashed before the party. I used the Bright Green cleaner to clean my entire kitchen and it did an awesome job. Sticky spots and stains on the counter were no match for this cleaner! And when the party was all over, I broke it out ounce again to clean up the spills and cake icing that seemed to be everywhere.
I was also given the ULTRA Hand Dish Wash Liquid in Natural Lavender. I will say I am not really a fan of lavender. This is just a personal preference though and I do believe I am in the minority on that. It does also come in lemon scent which I know I would love. I also put this to the test on the big birthday weekend. I had some pretty greasy dishes piled up in my sink the day before the party that I needed to clean up. And I saved the greasiest one just for this. That would be my Green Pan that I had cooked Italian sausages in. By the time I got around to cleaning the pan, the grease had hardened on there and was pretty thick. But the Bright Green dish wash cut right through it with no problems. I was actually quite impressed with how quickly it cleaned it. Great stuff.
What is also wonderful about these
Bright Green
products is the price. So many natural/green products are so pricey making it hard for the average person to buy. That is not the case with Bright Green. The All Purpose cleaner retails for $3.49 and the Dish Wash for just $2.99. Very, very reasonable! In addition to cleaning products, Bright Green also has laundry products, paper goods and light bulbs! The only thing I am bummed about is there are no Safeway stores near here for me to go out and get some more. Those of you who can shop at Safeway are so lucky!