Isn't Spring great? Beautiful flowers, green grass and green trees. Unfortunately, along with that beauty comes seasonal allergies. I swear every year since moving to the New England countryside, my allergies have gotten worse and worse. My oldest son William also suffers from congestion. I really can't tell if it is allergies or just chronic congestion, but he gets so stuffed and he can't breathe. Due to his congestion, I would have to spray saline into William's nose on a daily basis. Now I've done it to myself and it sucks. It is gross and it burns. So I hated doing it to him but I also hated the chase down and virtual hog tie that I would have to do in order to spray his nose. It was just an awful event that would end with a clear nose but also with him crying. So when the opportunity came to review the Kids Mist system from SinuCleanse, I jumped on it!


A few facts about Kids Mist:

Ultra-Fine Mist For A Child's Sensitive Nose
100% All-Natural Ingredients
No Preservatives!
Pre-Measured and Precise Doses
Anti-Back Wash Valve Prevents Re-Contamination
Safe for Newborns to Children 12 Years Old
The new SinuCleanse® Kids Mist™ allows parents to ease their infants' and children's nasal discomfort, congestion, allergies, sinus headaches and runny noses. Using saline to wash your child's sinuses is a proven and effective way to reduce and eliminate most sinus related problems.

WHY PRESERVATIVES IN OTHER 'SALINE' PRODUCTS ARE HARMFUL:
Many children's s
aline and nasal spray/drop solutions contain preservatives. Often, these products claim these preservatives are not harmful to your child's sensitive nose, but further research proves otherwise. For example, Benzalkonium Chloride (BZCL) is a common preservative used in saline products, however BZCL has been proven to damage the sensitive lining of a child's nose. SinuCleanse® Kids Mist™ is proud to be 100% preservative- free!
So William and I opened the box together and he watched as I set it up (which takes 30 seconds). He was very excited to try it out because it was a new and cool looking. I gave one quick spray into the first side. He giggled and then asked me to do the other. What? Could this really be the kid I usually have to chase around the house to get saline in his nose? So I sprayed it in the other side. Then he asked me if he could do it. Sure!! He did another spray in each nostril, with my help. Just those few sprays loosened everything up and with one blow he was completely clear. It was amazing. Not only did he enjoy it, but it worked better than any other nasal spray I have used. We have been using it every night before bed for a few weeks now and he still loves it. He really enjoys being able to do it himself. At first he needed my help pushing down, but he is getting better at it.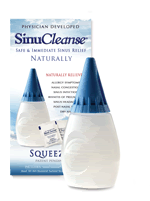 In addition to the Kids Mist, SinuCleanse was also kind enough to send me both the Neti Pot and the Squeeze systems to try out for me. As I mentioned earlier, I suffer from Spring allergies. Add in my Pregnancy Rhinitis and things were getting pretty bad. I started using the Squeeze first and I couldn't believe what a difference it makes. It only takes about 5 minutes or less and instantly clears out everything. I use it first thing in the morning and it helps so much with congestion and post nasal drip for most of the day. The Neti Pot gives the same results, just with a different device. I know quite a few people who use a Neti Pot but the look intimidated me and I was afraid to give it a try. I'm happy to report it is not scary at all!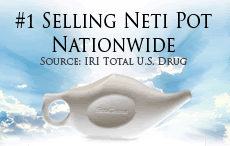 Both the Squeeze and Neti Pot easy to use, but I personally prefer the Squeeze. And not because of any problems but because of my lack of coordination. With the Neti Pot you need to tilt your head forward and to the side at the same time which apparently is too complex for me (rolls eyes). I am getting better with it though! Overall, I truly love all 3 of these
SinuCleanse
products and will be using them for a long time to come.