I was so excited when I was presented with the opportunity to review Fabkins - I love finding new green products, especially for my kids! Fabkins was started by 2 moms in California who wanted to pack waste-free lunches for their children. So they decided to make their own line of children's napkins. What a great idea! We've been trying to use cloth napkins in our home more, but honestly they are too big for
my 4 year old so I never packed them in his lunch for school. Well unlike traditional sized napkins, these are the perfect size for your kiddos. I'd say it's about ¾ the size of the regular cloth napkins we have. They come in a variety of designs so there is sure to be one your child will love.

When I first opened my package I had to chuckle because the designs that Fabkins sent me were perfect for us! I received 2 napkins, a blue one with a baseball from the Sports Fan theme and a yellow one with a giraffe from the African Safari theme. Now I say these were perfect because my 4 year old loves blue and loves sports so he was very excited about his new "baseball napkin." The theme in the twins' room is African Safari, so I thought it was fitting. The first thing I did was toss them in the wash to see how they held up. Well they came out the same as they went in. I have since washed them again and they are still looking great. These napkins are definitely good quality.

There is a little feature on these that I love and that is the tag. Yes I know, who cares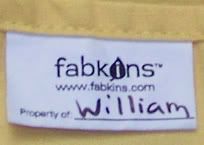 about the tag? Well as a mom who once had a child in full time daycare and now in part time preschool, I've been constantly writing William's name on things and most tags leave absolutely no room to do so. I end up writing so small its illegible or in between other text so it's hard to spot. Well no worries here. Fabkins have a nice, simple tag with a "Property of" line and plenty of space to write your child's name. Yay! I wish more manufacturers of children's products did this.

William has been using one with his meals the past few days and they have been great. If he is using paper napkins he goes through a ton, so this is definitely saving a lot of waste for us. It is folded neatly next to his plate; he wipes his mouth and then carefully places it back down so it's still folded. Too cute!

Now my big test was going to be packing it with lunch and sending it off to preschool. However the big test wasn't for the Fabkins; I already loved them, but rather to see if it would actually make it back home. So this was a test for William.
Honestly, I haven't been sending any napkins with his lunch, I just didn't think of it. So I packed everything up neatly in his lunch bag, and then spent about 5 minutes explaining to him how important it was to put it back in the bag when he was done and to NOT throw it in the garbage.

When he came home I quickly opened up his bag to make sure it had returned. There it was – folded up nice and neat! Now it is hard to tell if he actually used it, it was their Valentine's Day party so I'm sure things were crazy, but now I know I can trust him to bring it home. These Fabkins will now be going to preschool twice a week with him. And when my little guys are older, I am definitely going to need a bunch more.

See this and other great reviews for great products at Ohana Mama.