It's Saturday morning and your hubby has agreed to watch the kiddos so you can get your grocery shopping done. Alone and quietly, how nice! You head out to the store but as you pull into the parking lot you realize you left your reusable bags at home. Again. Or maybe you did remember to throw them in the car before you left, but when you go to check out you discover that they are still in the car. It's happened to us all; probably more then we care to admit. At some point, we all suffer from Bagnesia!

Finally, there is a cure for our forgetfulness! The lovely ladies over at Bagnesia came up with this awesome idea – a kit to remind you to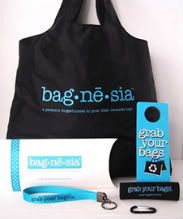 bring your bags with you!



"The Bagnesia reminder kit contains simple, effective, products that work together so you never forget to take your reusable bags into the store again!"
Each kit includes a nylon reusable bag, door hanger, steering wheel wrap, wrist lanyard key chain and a carabineer clip. I had the pleasure of trying out one of these kits, and boy it really did help me!
I've been known to leave my bags in my basement as I am hurrying out the door. This past
week I had been running around like a mad woman getting ready for William's 4th birthday party. Thanks to this kit, not once did I forget my bags! The first line of defense for me is the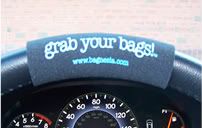 door hangar. My bags are almost always on the bench in the basement that is right by the door to the garage. So I put my door hanger right there and this helped me to actually get the bags in the car. The second part is the steering wheel wrap. Since it is right in front of my face while I am driving, it is a constant reminder to bring my bags into the store. For the first time in a very long time I even remembered to bring them into Walmart. Yay me!
The kit also comes with a wrist lanyard key chain and a carabineer clip, which are pretty darn cool. The lanyard key chain is a bright blue so it stands out and serves as another reminder to bring your bags. I've been using the same carabineer clip on my keys for a good 5 years, so it was pretty beat up. It was great to get a shiny new one that is certified lead-free.
I also have to say that I really like this bag. It's bigger than the other reusable bags I have and has longer, wide straps which make it easier for carrying. My first trip with this bag was to Trader Joe's and I fit my entire purchase into this bag. The less bags to carry the happier I am since I'm usually shopping with 21 month old twins. It also folds up nice and compact for easy travel. From Bagnesia:
"Bagnesia's compact reusable bag is made from lightweight washable nylon. When unfolded, it measures 18" X 16", will hold up to 40 lbs (comparable to 2-3 plastic shopping bags) and is water resistant. Smaller than most cell phones, when rolled up and closed with the attached elastic band, it measures just 4" X 2" and fits great into small spaces."
So I have to say that this kit is really cool and effective. My door hangar and wheel wrap will stay up permanently since they are really helping me remember my bags. Thanks to Bagnesia, I should never forget them again.
Shop
Visit the
Bagnesia
online store to order your own kit and be sure to take a look at some of their other eco-friendly products. For any order you place, enter "greenmama" into the comments and they will add a free produce bag!