Being a mom of 4, I have done my fair share of bathing babies. I have also used several different types of baby tubs or bathers and never truly been satisfied with any. First you have the big plastic baby tubs. These are probably the most popular. My problem with these is that they are huge and a pain to store and the only sink they fit in is the kitchen. So when bathing in a big open space like that the baby is freezing. The other I have tried is the mesh seat that you can just place right in the tub. These will absolutely kill your back as you are hunched over the side of your tub and reaching down to clean your infant. No, none of the traditional options out there really seem to be all that great.


I was really excited when Puj picked me to be one of their official product testers for The Puj Tub
. I was more than ready to find a better baby bath solution (say that 3 times fast). The Puj Tub can be used for infants 0 to 6 months old (up to 17 pounds). It is made of soft foam and fits in any standard bathroom sink. When not in use it is completely flat and can be easily stored. When you are ready for bath time, simply snap the magnets together and viola! instant bathtub! The Puj Tub is non-toxic, hypoallergenic, anti-fungal, anti-bacterial and made in the USA.


My little man is 7 weeks old now and I have been using this tub for about the last 4 weeks, since his cord stump finally fell off. So I have had some time to really test it out and see if its better than all those old tubs.
The Good
The Puj Tub
is super easy to assemble and disassemble - 2 snaps of the magnets and you are done! I love that this fits in my bathroom sink, it is so much easier for me to bathe my baby in the bathroom rather than in the plastic tub for the kitchen sink. The shape of the Puj Tub cradles him really well and he is genuinely pretty happy during his baths in it. This tub is also super easy to clean. We all know that babies have a reputation of occasionally pooping in their baths. This happened for the first time last week and all I had to do was empty the tub, unsnap it and give it a quick wash down. If I was using the big plastic tub, I'd have to take off the mesh newborn hammock and throw it in the wash and then scrub all the corners and crevices in the tub. Not fun. I also have a pretty tight bathroom for 4 kids so being able to just hang the Puj Tub up in my shower till the next bath is awesome.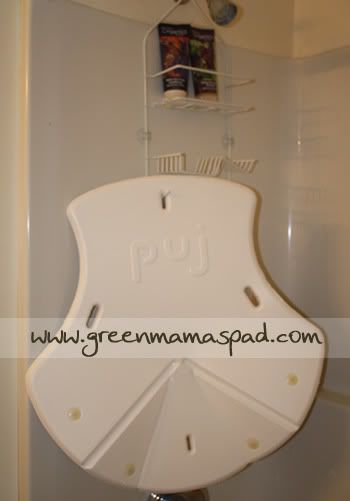 The Not So Good
I honestly do not really have anything negative to say about The Puj Tub; just maybe a few improvements. I would love if this tub could hold more water. When you fill it up and then put the baby in, about half of the water drains out of the overflow hole. So pretty much only the baby's bottom is in water leaving the baby's upper half wet and exposed to air which makes him chilly. Perhaps having the overflow hole moved up an inch or so could help with that. My only other issue was that it was a tight fit under my sink faucet. You can see in my picture how I had to bend the side a little to make it fit. But that is probably more my problem as I clearly have a builder special faucet that is original to the house.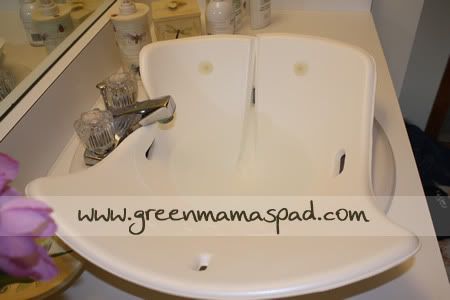 Overall I am extremely happy with my Puj Tub. It has made bath time so much easier for me. I bathe my 3 older boys in the regular tub and while the last one (the oldest) is finishing up, I can quickly bathe the baby in the sink right there. Being able to get them all done in one space is a huge time saver for me. I definitely would recommend this tub to any mom of a newborn or it would make an awesome baby shower gift!
Shop
The Puj Tub can be purchased from Target.com for $39.99
.