One of my Green Goals for 2010 is to try out cloth diapering with our newborn. Cloth diapers really intimidate me so I never tried them with our 3 older boys. Since I am new to the cloth diaper world, I really didn't know were to start or what diapers to try. So I was beyond excited when Rosemary from Great Lakes Diaper contacted me about a review.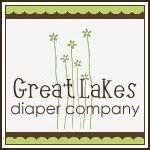 Great Lakes Diaper Company is an online cloth diaper store that has everything to get you started with cloth. Started by a mama, they carry a variety of cloth diapers like FuzziBunz and Knickerknappies as well as all of the accessories you will need. If you are new to cloth diapering like I am and need information on how it all works, then you need to check out the Cloth Diaper FAQs section. For me, this is the best and most helpful cloth FAQ that I have come across. One of my biggest questions going into this was what do I do with the poop and how do I wash these things. Great Lakes Diaper Company answers these questions and others with very detailed explanations. They also tell you about the different types of cloth diapers that are available and what you will need to get started. If you still have questions then do not hesitate to email them!

Now when Rosemary offered me a diaper to try out, I told her how excited I was but also so clueless. I had no idea what I should try or what would work well for a tiny newborn. I ultimately I gave her free reign and told her to send me what she thought would be good for me. I received 2 Perfect Size FuzziBunz (x-small) diapers.


When my diapers came in the mail I was so excited! I was finally going to try out cloth, not to mention they are just so darn cute! The FuzziBunz are fairly easy to use. They have a waterproof outer layer and a fleece inner layer and come with a fleece insert that goes in the inside pocket for extra absorbency. Now lets be honest, cloth diapering takes some getting used to. As someone who used disposable diapers on 3 previous children, cloth diapers were pretty foreign to me. I will admit I was a little skeeved about what to do with a poop diaper. I knew I was supposed to dump it in the toilet but I had not completely read the FAQ section I mentioned earlier that tells you that exclusively breastfed baby poop can just be thrown into the wash. So the first time that my little guy pooped in his FuzziBunz, here I am trying to scrape the poop off with toilet paper into the toilet. It was quite a sight. I also had a major blowout/leak the first time we used it but that was because I hadn't made the diaper tight enough. The FuzziBunz have a bunch of snaps so you can adjust the diaper to fit your baby - do not be afraid to make them nice and snug!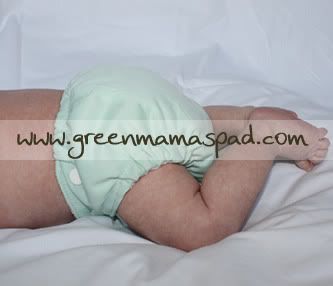 Isn't a cloth diaper baby bum just so cute? After a few more tries with them I think I can say I got the hang of it. Well, I am better anyway. :) Now I still only have these 2 diapers so I am still using disposables most of the time, but I am hoping to slowly build up a supply of some more cloth.
As I mentioned, Great Lakes Diaper company has a nice selection of different cloth diapers, wipes and other accessories. You will also find
newborn packages
which is a really great way to get yourself started. They even have a
Rewards Program
which lets you earn gift certificates to use towards future purchases. There are 3 ways to earn rewards (be sure to check the site for all the details):
~ For every $100 you spend you will receive a $5 certificate
~ Refer a friend who makes a $50 first purchase and receive a $5 certificate
~ Post their button on your blog and send them 100 unique visitors and receive a $5 certificate. (I actually need to get that set up myself)
Great Lakes Diaper Company often has special sales, you may have seen me post some in the past. So be sure to check out the sale section and save! And all orders over $50 will receive free standard shipping within the USA.
So whether you are an experienced cloth diaper user or a newbie like myself, you should definitely check out
Great Lakes Diaper Company
!
Giveaway
One (1) winner will receive a $20 gift certificate for
Great Lakes Diaper Company
.
Mandatory Entry
Visit the
Great lakes Diaper Company
site then come back and tell me your favorite product.
Extra Entries
- Follow me on Google or subscribe to my RSS feed in a reader.
- Subscribe via e-mail. Your email must validate or it will not count.
- Add my Green Mama's Pad button to your sidebar or add Green Mama's Pad to your blogroll. Leave your blog link.
- Follow
@GreenMamasPad
and
@GreatLakesDprCo
on Twitter and and tweet this giveaway. You can tweet once daily. Leave link to tweet in comment. You must have at least 50 followers and you may use this to tweet:
Win a $20 gift certificate to Great Lakes Diaper Company! @greenmamaspad @GreatLakesDprCo http://tinyurl.com/ygrrnep #giveaway #clothdiaper
- Blog about this giveaway. Your post must include a link to this post plus a link to the sponsor. Please leave link.
- Stumble this
post
and comment with your ID.
- Stumble one of my non-giveaway posts and tell me which one.
- Become a fan of
Green Mama's Pad
on Facebook.
- Become a fan of
Great Lakes Diaper Company
on Facebook.
This giveaway is open to US Residents 18+ only and will end on Thursday, March 4 at 11:59pm EST. One winner will be chosen at random using Random.org and will be posted on the Winner's Announcement Page. Winner has 48 hours to claim his/her prize otherwise a new winner will be picked. You must leave your e-mail address in all of your comment(s) so I can contact you. I will not share your e-mail address with anyone, it will strictly be used to notify you if you win. Good luck!
Please note that the opinions and views expressed in this review are my own and based on my personal experience with the product. You may encounter a different experience with this than I did. Great Lakes Diaper Company provided me with 2 diapers for review and is providing the gift certificate for the giveaway.