The closet in our master bedroom is a sad, sad sight. While I am grateful that it is a walk-in closet, it is on the small side. Since my husband and I share it and we both have a decent amount of clothes and shoes, well it looks quite disorderly. OK fine, only my side is disorderly, my husband's side is immaculate, but that's because I need more room. When we first moved into this house nine years ago, the closet had a single shelf up high on both sides with a rod below it. One of our first projects in this house was to redo this closet. It started with a trip to Home Depot to pick up some inexpensive closet organizers. We ended up choosing a white wire system. Though it isn't very pretty, it was in our price range. After deciding on the layout we wanted like where to put shelves and drawer, my handy husband got to work installing it for us.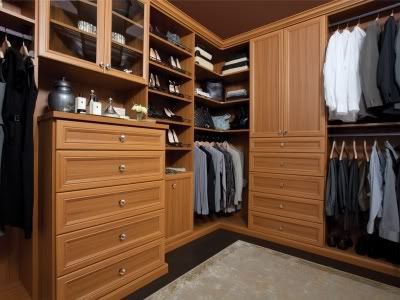 Image Credit: California Closets
It has held up well over the years and for the most part it has done its job. But every now and then I will be skimming through a magazine and I will come across beautiful
custom closets
and I immediately start to suffer from closet envy. Some of them are nicer and larger than my bedroom. I would love to have a big, luxurious closet like this some day with wood shelving and drawers like the one pictured above. I especially love the shelves for shoes and handbags! A closet like this is like a woman's dream come true. OK, well mine at least.
What would your dream closet look like?
This post has been brought to you by California Closets.